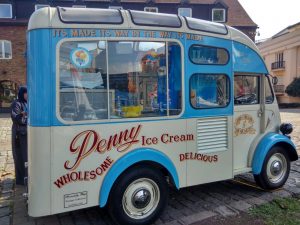 An English ice-cream van promising a nice treat…London. August 2017
"Don´t make promises you can´t keep" the saying goes…
Promises are all to do with trust, with relying on someone else. They give us an idea of how trustworthy people around us are.
I had an interesting talk this week with one of my students about how keeping promises or not affects our relationships with others. We discussed how all the time we invest on making others trust us can quickly and easily be wasted the moment they realize we´re not fulfilling a promise. Because a promise that is not kept becomes a deceit, a lie, a betrayal, a huge disappointment… We won´t consider, appreciate, treat or look at that person in the same way ever again…
Today, I would like to make a promise I know I can keep:
I promise you you´ll enjoy learning English more and more if you do it continuously, if you set your mind to it, if you practice every day, in a fun way, in a way you enjoy… xxx… More next week….